Introduction
The French are known to be the most affectionate people in the world, who knew that would extend to their dogs as well? If you're looking for a small, affectionate puppy that looks strong enough to pull down a bull, then you're probably in the market for a French Bulldog!
History
The Frenchie is the result of mixing the genes of a bulldog with France's local "ratters". As the breed developed, breeders became more stringent with their breeding practices to whittle away the unwanted characteristics from the puppies produced. The result of that is the French Bulldog that we know and love today.
Appearance
The Frenchie is a small to medium sized dog with a compact body structure. The most distinguishing feature on a French Bulldog is its large, square head with a really short snout. They also have upright ears that make them appear alert at all times.
Temperament
The French bulldog puppy is an attention seeker and will do anything to be in close contact with his human family.
Frenchies are very calm dogs and rarely bark, so they're perfect dogs for people living in condos or apartments.
Frenchies are very affectionate and are perfect dogs and puppies for small children based on their size and their sweet disposition.
Buy or sell French Bulldog puppies online
Health and Care
French Bulldogs love to lounge around but that doesn't mean you're just going to let him lie there for hours. They have a tendency to become obese so take them out for a 15 minute walk around the block for some exercise.
Avoid too much strenuous activity though as these dogs have hip dysplasia issues which could be aggravated from too much activities.
Like all molossoid dogs, Frenchies have issues with breathing. They can also develop allergies to certain food types. Lastly, their big eyes are extremely susceptible to corneal damage.
Lastly, don't leave your Frenchie out in the cold for too long as they only have a single layer of fur. If you ever wanted an excuse to dress your puppy up, then a French Bulldog is the perfect dog for you!
French Bulldog puppies for sale video gallery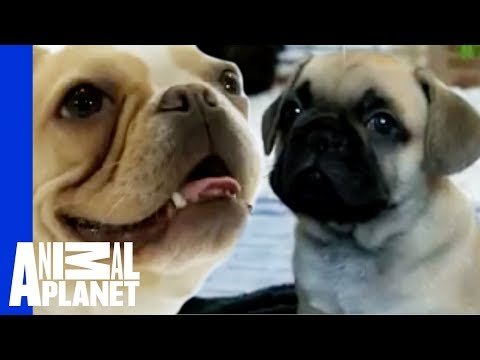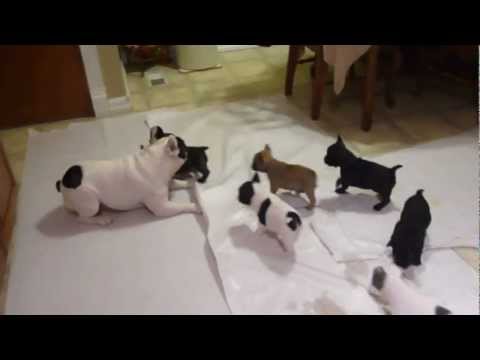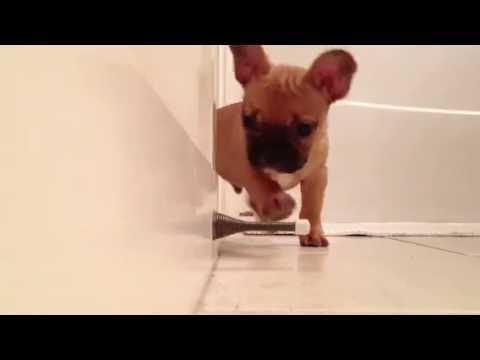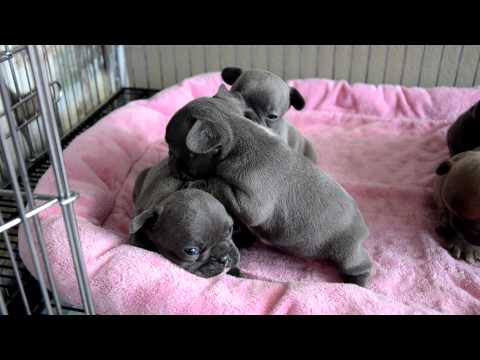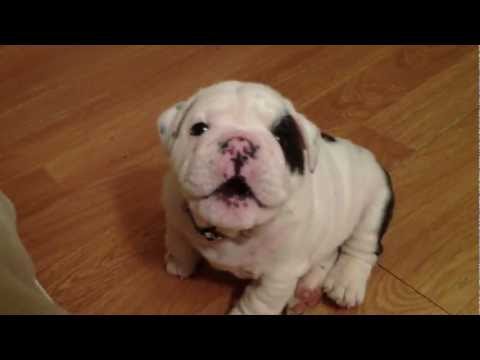 1 French Bulldog puppies for sale near you.
---
There are puppies for sale that hunt, puppies for sale that guard, and then there are puppies for sale that are bred to keep us company. The French Bulldog puppies are for your enjoyment. They are companion dogs. The French Bulldog puppies for sale arent French at all. The breed originated in Nottingham, England during the industrial revolution. In fact they were once called Toy English Bulldogs. The breed was brought to be by lace makers who crossed the English Bulldog with Pugs, and Terriers. They refined the breed into wonderful lap companion. The lace makers fell victim to the rapidly increasing industrialization of England. The craftsman took up shop in France where their breed grew in popularity. The Toy English Bull dog became known as the French Bulldog in the latter half of the nineteenth century. The French Bulldog puppies for sale are one of the most popular breeds in New York City these days. The French Bulldog puppies for sale are built for apartment life both physically and in its demeanor. Cumbersome is description that will never be associated with the French Bulldog. It weighs no more than twenty-eight pounds, and stands between eleven and thirteen inches tall. They are easily manageable in any apartment. They arent extremely active so exercise can be a romp around the apartment. The French Bulldog puppies for sale will prove to be great neighbors. The French Bulldog puppies for sale are not a yappy breed. It is generally a very quiet dog so, no angry neighbor on that account. They are friendly to dogs, and people if socialized at an early age. They may become a bit stubborn if an owner is meek or passive towards them and training. The puppies for sale will be an outgoing friendly and obedient companion with proper training. They are curious and playful. They are a joy. They love to go anywhere you go. So, take them along whenever you can. They need to be with their people. The French Bulldog puppies for sale are not a leave alone breed. There some definite concerns with the breed that you should be aware of when considering the French Bulldog. There top heavy body and trademark head will bring unique challenges to ownership. Because of their top heavy physique they cant swim. So, caution is a definite around water. Their weak and narrow lower body makes breeding and bearing offspring one of medical intervention. They may suffer from a number of diseases. Your vet can offer a great deal of guidance and prevention. The upside of the French Bulldog puppies for sale are otherwise easy maintenance. The French Bulldog puppies for sale short moderately fine coat needs very little grooming. Exercise is a snap. The breed is not very heat tolerant. The French Bulldogs coat is either black, fawn, white, or brindle and may be a combination of these colors. The puppies appeal is singular. They are a loving affectionate companion. The person who is lucky enough to have one of these French Bulldog puppies for sale will understand the appeal this breed held for the lace makers that brought it into being over two hundred years ago.